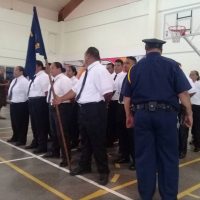 Twenty-seven new police officers have joined the ranks of the Department of Public Safety.
They graduated from the 26th police academy Friday morning at the Department of Youth and Women Affairs Center in Pago Pago.
Having successfully completed the three-month course, the cadets took the oath of police officers
And swore to uphold the law, to serve and to protect.
Each of the cadets had a family member proudly step up to pin the shield on their graduate before Commissioner Le'i Sonny Thompson handed each one them a certificate of completion.
Additional awards were given to some of the cadets for exceptional standing in academics, physical fitness, most improved and overall performance.