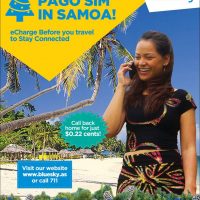 Bluesky rings in the holiday season with another milestone to add to their list of achievements.
Today marks the launch of the phone company's Prepaid Roaming services for American Samoa customers who are frequent travelers to Samoa.
Roaming is the ability for mobile customers to automatically make and receive calls when travelling outside their geographical coverage area or home network.
Bluesky initially launched roaming in 2010 – making it possible for postpaid subscribers to use their Bluesky mobile number when travelling to over 45 countries including the USA to make and receive calls and SMS and with data being enabled.
Blue Sky Marketing Manager Marilyn Gabriel said "Today, Bluesky is pleased to offer the same roaming convenience to all our prepaid mobile customers."
This means those traveling to  Samoa for the holidays – can now use your same Bluesky prepaid number in Samoa. However, the phone must be compatible on both networks.
Bluesky prepaid customers will need to eCharge their phone before they travel to stay connected while in Samoa or log into online.blueskypacificgroup.com, and eCharge your own phone.
Prepaid Roaming services has been automatically enabled to all Bluesky prepaid customers.
To opt out of using this service when travelling to Samoa, simply switch your data roaming off.
Gabriel says, "This is a great convenience to many of our customers that want to keep their number while they travel.  They no longer have to change SIM cards, and can use their Bluesky prepaid SIM when travelling to Samoa."
She says "Simply eCharge your phone before you go so that you have sufficient credit to use your phone, and even use data from Samoa using their Pago SIM card."