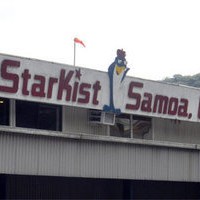 A key tax break for American Samoa's tuna industry will not be in the final version of historic tax legislation, now headed to the House and Senate for votes expected early next week.
But KHJ Washington correspondent Matt Kaye reports, that's not the end of the story…
An extension of the American Samoa Economic Development Credit, first included in a House-passed version of sweeping tax reform, but not the Senate version, was left out of a final GOP compromise bill, now headed back to both chambers early next week.
But Congresswoman Aumua Amata Radewagen who successfully lobbied House Ways and Means Chair Kevin Brady for a 6-year extension of the credit, key for Star-Kist and its local tuna cannery, now hopes the credit will be included later in a separate 'tax extenders' package.
Such a package could also extend rum tax credits for Puerto Rico and the US Virgin Islands.But more immediately, the landmark tax bill expected to pass with only GOP votes in the House and narrowly-divided Senate next week, will dramatically reduce corporate tax rates.
Radewagen argues the offsetting rate reduction has a similar effect to the economic development credit of encouraging investment and job growth.
The Congresswoman issued a statement that "the overall reduction in the tax burden helps the financial bottom line for companies like Star-Kist."
She says a competitive tax rate is a key indicator that the tuna industry will continue as an employer in American Samoa "for years to come."
Still, Radewagen would rather have seen the economic development credit in the historic tax bill.
A 2007 Labor Department report declared that "the loss of the economic development credit would be a damaging blow to the profits of the American Samoa canneries causing possible relocation."
Congress extended the credit yearly, but lawmakers failed to extend the provision last year, raising concern the remaining cannery in American Samoa would either drastically reduce operations or cease them entirely, and relocate outside the US.
Now, Radewagen argues the huge corporate tax cut in the sweeping reform bill, will help secure the local tuna industry, anyway.