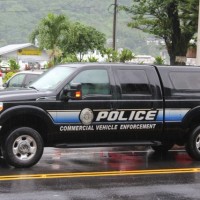 Police were shot at last night in the vicinity of the Tony Solaita Baseball Field.
This has been confirmed by Commissioner of Public Safety Lei Sonny Thompson.
Responding to KHJ News questions, Lei said via email  that last night at about midnight or thereabouts, officers from the Tafuna Sub-Station responded to a call from the ASTCA Security Officer in Tafuna that some people were throwing what was described as cherry bombs into their compound.
Upon arrival. responding officers noticed that the gate into the Tony Solaita Base Ball Field was opened.
One of the officers got out of the DPS vehicle to check and while he was walking into the field, he saw a flash from what appeared to be the muzzle of a weapon.
According to the commissioner, someone was shooting at the police vehicle while it was driven by one of the officers.
Le'i said the bullet shattered the unit's rear window and it's suspected that the other penetrated through the right side front door.
The commissioner said they wont know for certain until their investigation is completed what type of weapon was used but he suspects it was a high powered rifle.
Le'i was thankful that someone was not hurt or even killed.
He is asking for the public's help for police to find the person or persons responsible for the shooting.
The commissioner told KHJ News,"Thank God the officer on the passenger side was outside or this attempt on the officers' lives would have resulted in a fatality.
"An attempt on the police officers lives is an attempt on the lives of all people of American Samoa."
He added that last night's incident, "is a grave concern to me and the officers; and should also be a grave concern to all people who believe in good order and discipline.
The commissioner served notice that DPS will see to it that the perpetrator or perpetrators will answer for their actions.
He said, "We will not rest until we arrest this person or persons and prosecute them to the full extent of the law.
Le'i declared, "This cowardly and violent act must be dealt with in accordance with the law immediately.  We appreciate the general public's  help to provide any and all leads to this matter."