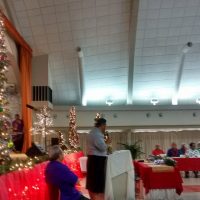 It was a festive yet sombre last cabinet meeting for 2017 today hosted by Governor Lolo Moliga, the First Lady and Lt Governor Lemanu Peleti Mauga at Lee Auditorium.last meeting
The meeting started with a moment of silence for Taeaoafua Dr. Meki Solomona who died suddenly on Monday.
What would have been Taeaoafua's seat at the meeting was draped with a ginger ula.  Directors also remembered their colleague in their remarks.
The gathering included a Christmas luncheon with a live band as well as a dance group from the National Park Service.
Governor Lolo thanked directors for their service and apologized for any shortcomings on he and Lemanu's part.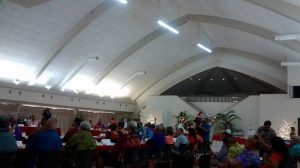 He stressed again that they were servants of the people and if one person's life was made better because of the work they performed, then their time in office was purposeful.
Lolo invited directors to give reflections on the year that was 2017, say thank you or even apologize but he made it clear, no wish list.
The meeting was also attended by former directors, Faumuina Maeataanoa who was director of Parks and Recreation and Fagafaga Daniel Langkilde who was director of Public Information/KVZK-TV in the first Lolo Lemanu administration and was then named Press Officer for the Governor's Office.