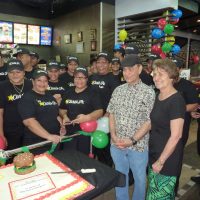 At the 10th anniversary of Carl's Jr. yesterday, it was announced that an expansion of the popular fast food restaurant should be ready by Flag Day next year
Owner Barry Forsgren said they're taking up more of the Laufou Center space to add 80 more seas, There'll also be an indoor air conditioned play area complete with a two story jungle gum.
The owners are also adding in a meeting area equipped with its own drink fountain and service counter.
It was also announced that the Forsgren Family which owns Laufou is reinvesting even more in the community over the next two months.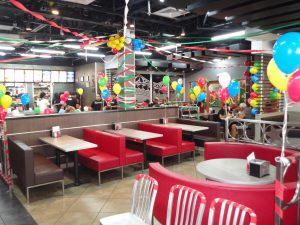 Barry Forsgren credits the public's support of Carl's Jr. for the expansion.
The restaurant showed its appreciation with a huge birthday cake and free meals were given to hundreds of customers.
The staff sang happy birthday then Mrs Leone Forsgren did the honors of cutting the cake and offering praise to God for the enormous success of Carl's Jr.
The fast food establishment has been a popular eating spot for many over the last ten years because of it's large burgers, free drink refills, ever-expanding menu options and family-oriented service.
It's consistently ranked as the second or third each year for sales worldwide and has won accolades worldwide for its service and commitment to quality.