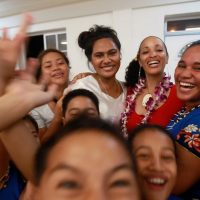 The Eastern District will boast a modern privately owned facility that promotes traditional healing.
Filmmaker Queen Muhammed Ali has been awarded $500,000 funding from ArtPlace America, for the center.
Queen Muhammed, whose mother is from the Leiato family of Fagaitua, says she wants to help reverse the epidemic of poor health in the territory and wants to promote traditional medicine and fofo as a cure.
Queen Muhammed, her mother and husband were in the territory earlier this year, getting input from residents for the Eastern District regarding the center.
She said in an interview with Radio New Zealand International that the government is supportive of the project.