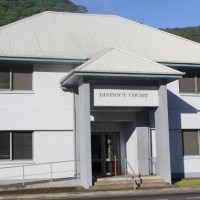 Ioane Faimata is being held without bail on charges of first degree burglary, possession of burglar tools and stealing, stemming from an incident last month in Tafuna.
The government alleges that Faimata was caught red-handed entering the Pacific Mart Store with the intention of stealing.
Police who responded to a call for assistance from the store arrived to find the defendant tied up with white rope, surrounded by several men.
The store owner said his apartment had been broken into several times and the culprits made off with numerous cases of cigarettes.
So he set a trap to catch the burglars, and stood watch with several men.
The store owner said between 3 and 4 that morning, the defendant made his way into the apartment and he was pounced on.
After he was restrained and police were called, the defendant attacked his captors injuring some of them.
It's alleged that he threatened he would come back and kill them, since he'll remember their faces.
Faimata also sustained injuries for which he was treated by EMS personnel.
During questioning by police, the defendant claimed that three other men coerced him into breaking into the store and stealing cases of cigarettes.
Security footage from the store that police viewed, showed the defendant and another man entering the building and leaving with cases that were identified by the store owner as cigarette cases from his store.
The value of the stolen cigarette cases according to the store owner was $9,600.