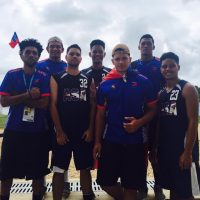 It was the two Samoa's on the court yesterday in 3 on 3 basketball competition at the Pacific Mini Games in Port Vila, last night.
American Samoa won the first set 5-3 but then went down 1-6 in the second set. Final score 9-6 to Samoa.
It was a hard fought match for both teams according to a team member from Vanuatu.
He said the opponents shook hands, hugged and posed for a group photo after the hard match.
This pretty much eliminates our team from medal contention.
Samoa meanwhile has only one loss and is a strong contender for gold.
Team American Samoa is now rooting for Samoa as it makes its way to the finals.