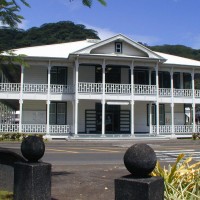 The case of ex customs agent Teni Luamanu is now in High Court after he waived his rights to a preliminary examination in District Court yesterday.
He is facing charges of possession of marijuana and unlawful distribution of marijuana both felony charges.
The charges stem from a drug bust at the Post office two weeks ago when Luamanu went to the Pago Pago Post Office to retrieve a package that was addressed to him.
The package which had been sitting at the post Office for more than two weeks had apparently let off a strong smell of cannabis.
When Luamanu went to pick up the package, agents found inside about 2 pounds of marijuana.
Luamanu has posted bail and appeared in High Court this morning for his arraignment.