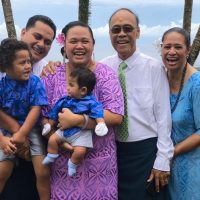 Relatives, co workers and friends, of Taeaoafua Dr. Meki Solomona , Director of Human and Social Services, are reacting with shock to his sudden passing .
Taeaoafua collapsed In his office yesterday afternoon from what is believed to be a heart attack and died.
He was 63.
His wife Vaofu'a said Taeaoafua collapsed in front of her.
He had just returned from the First Lady's visit to Hope House where DHSS had been asked to sing for the visit.
Mrs Solomona said around 12:30 pm her husband was finishing signing some paperwork and said he was hungry and ready for lunch.
He collapsed at his desk and was rushed to the hospital where according to Mrs Solomona attendants worked feverishly on him for almost two hours, but to no avail.
As news of his sudden passing spread, the LBJ Hospital chapel filled up with his family, staff and ASG officials.
Lt. Governor Lemanu Peleti Mauga , Senator Tuaolo Fruean, Manu'a District Governor Laolagi and several directors were present along with countless employees of DHSS, led by Deputy Director Muavaefaatasi John Suisala.
Many of Taeaoafau and Mrs Solomona's aiga potppoto or clan also came to pay their respects. Taeaoafua was indeed loved and respected.
When Governor Uifaatali Peter Coleman was leaving office at the end of his years of governor, he told this journalist that Meki, as he was known before he took on his matai title, was one of the young promising leaders being groomed for governorship.
Meki did run as the lt governor running mate to Afoa Moega Lutu in 2004 which was the only time he had run for public office.
But he was a force in the gubernatorial campaigns of the Uifaatali and Tufele camps as well as the Leala Afoa teams, and continuing to the successful election of Lolo and Lemanu in 2012.
Taeaoafua was placed in the public eye from a young age, as his excellent skills in English and Samoan made him a popular emcee for community events.
While teaching at Samoana High School he was a part time deejay for the old WVUV Radio Station in Vailoa where he was known as Don Mac.
In his life time he has been a Principal of Samoana High School, Deputy Director of Education, Director of Economic Development, the former name of the Department of Commerce, Government and Community liaison for StarKist Samoa and Director of Human and Social Services.
Steeped in the faasamoa, Taeaoafua according to his relatives, lived by the proverb o le ala I le pule o le tautua, leadership comes through service.
His immediate and extended family and that of his wife attest to his active participation in family affairs…osi aiga,
Taeaoafua was born in Papua New Guinea to faifeau parents of the London Missionary Society who were missionaries in that Pacific island country,
His formal education started in Papua New Guinea and continued at the Fia Iloa School in Utulei, a school for non Samoan speaking children.
He later graduated from Carson High School, California, earned a Bachelor's degree at the University of California in Riverside and after several years in public service he obtained his Masters and Doctorate from Brigham Young University, Provo.
His wife of 28 years, Vaofu'a Soliai Solomona said "Taeaoafua died doing what he loved doing, serving his beloved people of American Samoa."
The Solomonas have one daughter, Katerina, and two grandsons Mekitavita and Mikaele.
Taeaoafua has six surviving siblings, Saili , Rev. Siulagi, Fuatino, Uefa, SinasinaletotooIesu and Ropeti.
KHJ News extends to them all deepest sympathies for the passing of their beloved Taeaoafua Dr. Meki Solomona