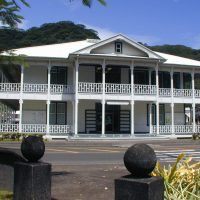 A Samoana High School counselor is expected to appear in District Court on drug charges following his arrest yesterday.
Sources tell KHJ News that the suspect was at the airport to pick up a package that arrived on the weekly cargo flight Friday afternoon. –
The suspect apparently didn't want to pay the customs processing fee and said he would come Monday morning during regular office hours to uplift the package which was addressed to him.
Customs agents found in the package more than 7 ounces of crystal methamphetamine which was hidden in a speaker.
According to our sources the suspect claimed that the package contained a gift for his wife for Christmas
He is expected to make his initial appearance in District Court today