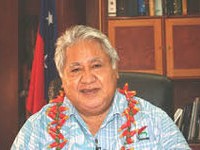 Samoa Prime Minister Tuilaepa Sailele Malielegaoi is still adamant there will be no same sex marriages in Samoa .
At his weekly media conference last Friday he jokingly said that he, as patron of the Fa'afine of Samoa association, would seek to have them participate as women weightlifters in international meets.
This was a reference to the New Zealand transgender weightlifter, Laurel Hubbard who won gold last week at the Australian International meet, ahead of Samoa lifter Iuniarra Sipaia.
Tuilaepa said he will make faafafine lift in the womens competition bringing in lots of God medals.
But he turned serious when asked if this was an indication of a softening of his stance towards the issue of same sex marriage, after Australia, a major development partner for Samoa legalized same sex marriage.
The Prime Minister said "There is no true Christian country in the world who would allow such an abomination as same sex marriage,"
He said this "sodom and gomorrah" practice would not be allowed in Samoa as long as it remained a Christian country.
Tuilaepa and his Human Rights Protection Party had earlier this year changed the country's constitution to reflect that Samoa was a Christian nation.