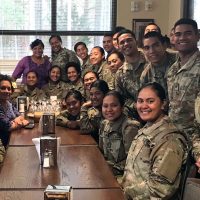 Last Friday, Congresswoman Aumua Amata spent time with  soldiers from American Samoa  at Fort Lee, Virginia, during a tour of the base and the U.S. Army Women's Museum .
The soldiers are stationed at Fort Lee for their Advanced Individual Training (AIT) and will not be able to return home for the holidays.
The congresswoman said, "It was a great pleasure to greet our soldiers from American Samoa on behalf of everyone back home, and wish them merry Christmas.
She said the soldiers sent warm Christmas wishes back to everyone.
"I was able to take a few moments to tell them we're all very proud of them, and thinking of them in their training, and at this time of year."
The soldiers wish people in American Samoa a merry Christmas and send a greeting here.
A press release from the congresswoman points out that American Samoa has the highest enlistment rate in the U.S. Army of any state or territory, and "these soldiers are just getting started in their journey that continues that proud tradition of uniformed service."
In her talk to the Samoan soldiers, Aumua said, "For the rest of your lives, you will say with pride that you served.
"You're soldiers.
"I've seen what that means for many years.
"I saw it in my father, and in many others. Strength. Confidence. Leadership. Integrity. You're serving your country, but you're also learning to live great lives."
These are the names and villages of the soldiers whom the congresswoman met with at Fort Lee:
Taliu, Tiana – Ili'ili
Maiava, Iva – Tafuna (Petesa)
Miller, Crystal – Futiga
Mageo, Gloria – Pago Pago
Alei, David – Aua
Tauili'ili, Joseph – Tafuna & Pava'ia'i
Mulitalo, Pauline – Faleniu
Tuiuli, Magali'I – Taputimu
Lalau, Apelu – Pago Pago
Johnson, Taale – Pago Pago
Maloata, Joseph – Pago Pago & Malaeloa
Ali'ileleimatumua Mata'u – Fagasa
Vaovasa, Selaina – Faga'alu
Teofilo, Letriona – Fatumafuti & Aasu
Filiva'a, Feiloaiga – Nu'uuli
Tefilo, Regina – Tafuna & Faganeanea
Pene, Scottie – Pago Pago
Lauoi Mageo Sotoa Tuivaiti – Pago Pago
Tafua Faletolu –
Leimara Nonu
Taufiava
Tavai, Lauolivemara – Gataivai
Alaimalo, Lloyd –
Pase, Valentino – Nuuuli
McCall
and Charles Laumatia – Aua
During her tour of Fort Lee the congresswoman viewed the Army Womens Museum display which honors the heroic memory of Sgt. Tina Time of Futiga.