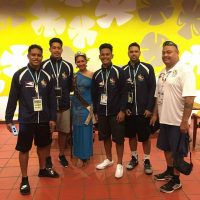 Our 3 on 3 basketball team at the Pacific Mini Games in Vanuatu defeated Fiji yesterday in their fourth game.
It was a sweet and proud victory for our boys as one of their cheer leaders was Miss Pacific Islands, Matauaina Toomalatai.
Fiji, which is one of the medal contenders went down to Team American Samoa by a score of 10 to 6.
In our team's previous games they lost to Solomons 12-11 and also lost their first game to CNMi 18-5.
Two more wins and our boys will be in the medal run.