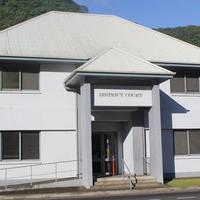 Customs agent Titifalaula Siaumau has plead guilty to importing a controlled substance, marijuana, in a plea deal with the government,
In exchange for his guilty plea, the second charge of conspiracy to distribute a controlled substance has been dropped.
The 22 year old defendant admitted that in March this year he knowingly imported marijuana which arrived in a package that had been air freighted via Pago Pago International Airport.
Charging information said that an employee of CSL at the time , Felix Penerosa had been approached by Siaumau earlier for help in clearing a package that he was expecting from California,
When the package which was addressed to Penerosa arrived, customs agents found in it a speaker and marijuana with a street value of $20,000.
The sender of the package was Toese Asiata.
Court Affidavits also indicated that Siaumau had been in Sacramento earlier in the year with $12,000 cash,
The defendant had come to the KHJ Newsroom shortly after he was charged professing his innocence and stating that he would tell all about what was going on in customs. He said he had been targeted because he knew about the preferential treatment being dished out by then Customs Chief Moetului Fuiava to certain businesses,
Siaumau, who is out on bail, will be sentenced February 2.