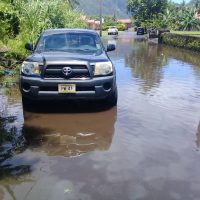 Roads turned into rivers in many parts of the Tuala-uta District after heavy torrential rain Saturday night and yesterday morning.
The day of rest turned into a busy one for public works crews. Tuala uta representative Samuel Meleisea was with the work crews who were out trying to get rid of the floods and help stalled vehicles,
The main road in between SSAB Pago and the new Argosy University building, Happy Valley road, Golf Course road Fatuoaiga and Fagaima had higher than normal water around 5am yesterday.
Meleisea said many cars stalled at the flood spots.
For those trying to access the Catholic Cathedral, via Fagaima road or the back road running through. Hope House, there was no relief.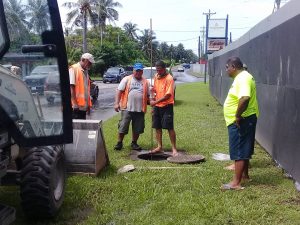 While the main road in front of the LDS Stake Center in Ottoville is closed for drainage improvements, the alternate routes were also badly flooded.
Some car owners posted their frustration on social media and asking when something will be done about the drainage in these parts of Tuala-uta,
One angry poster said instead of having a peaceful Sunday, he was searching for a mechanic to fix his vehicle after going through the floods.
Rep. Meleisea said in response to KHJ News questions that DPW responded to requests for assistance.
DPW official Luki Tuitasi and M&O crews had been monitoring the situation hoping for clear skies so they could work to clear the drainage.
But the rain continued to fall for most of the day.
DPW managed to significantly decrease water levels in Happy Valley and Golf Course road and clear out the main road across SSAB Inc.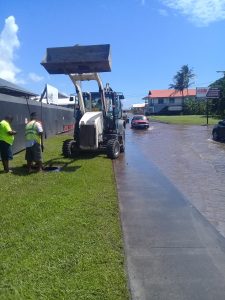 They worked from daylight to round 5pm.
There was also a landslide reported at Asili on Saturday.