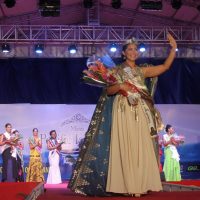 Matauaina Gwendolyn Toomalatai left the territory a week ago as Miss American Samoa and now returns home as Miss Pacific Islands 2017.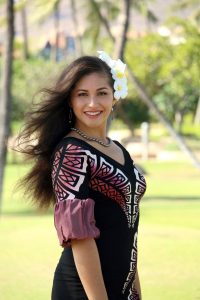 The 24 year old captured the crown from 8 other contestants Saturday night in Nadi, Fiji, giving American Samoa its first victory in the regional pageant in15 years.
And shortly after she was crowned she was doing duty at the Mini Pacific Games in Vanuatu, giving our athletes and all others from around the region an extra boost.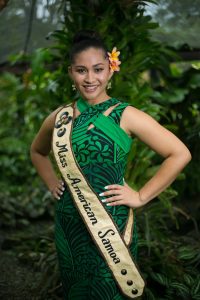 Matauaina is the sixth Miss American Samoa to win the Miss Pacific islands title.
Miss American Samoa topped the judges score board for Miss Photogenic, Tourism National Award, and Best Traditional wear.
The competition was between her and Miss Samoa, Papalii Alexandra Iakopo, who was named first runner up.
Miss Samoa won Miss Internet, Talent, and Interview.
The only other contestant to win a category was Miss PNG who won Best Sarong.
Shedding tears after she was announced the winner, Matauaina gave a short thank you speech in which she mentioned her father who passed away recently.
She said "To my dad, I wish you were here.
"To my families and friends, to my team and especially to my country, thank you all so much.
"Thank you American Samoa, I'm truly so blessed to represent such a country.
"Faafetai tele lava, vinaka vakalevu."
Previous winners of the Miss Pacific Islands from American Samoa are Juliette Spencer, Leilua Stevenson, Rochelle Tuitele, Helen Bourke, and Lupe Aumavae.