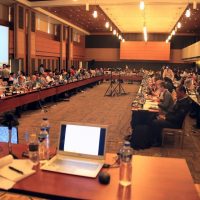 A warning has been sounded about the increase in drug trafficking between the two Samoas.
The warning came from Samoa's Police Commissioner Fuiavailili Egon Keil at the talks between the two Samoas.
Fuiavailili appealed to the American Samoa authorities to step up inspections of cargo and travelers transiting American Samoa to Samoa.
It was his understanding that American Samoa was only inspecting cargo whose final destination is Pago Pago.
Fuiavailili told the meeting that eventually contraband that transits through American Samoa without inspection make their way back into the territory.
The Samoa police commissioner said there's an increase in drug trafficking and there's a new synthetic drug that's worse off than heroin.
Play Audio
Samoas top cop  also asked that American Samoa inspect cargo and travelers transiting through Pago Pago.
Play Audio