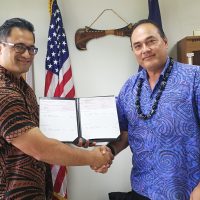 American Samoa's $9 million investment in the American Samoa Hawaii ("ASH") Cable company is finally yielding some cash for ASG's coffers.
On Wednesday the President of ASH Cable Toleafoa Douglas Creevey, who's also the CEO of the BlueSky Pacific Group handed  a check of $1,650,000 to Attorney General Talauega Eleasalo Ale for shareholder, American Samoa Government.
A check for shareholder Elandia's corporate tax was also presented to the AG.
ASH is the company that was created during the Togiola Faoa administration to manage the undersea fiber optic cable connecting American Samoa, and Samoa to Hawaii.
A press release issued yesterday by BlueSky said that this was the cable company's first annual cash dividend distribution
Toleafoa said ASH Cable is a successful example of a favourable investment partnership between the private business sector and its government.
He  was pleased to share that not a penny of this dividend distribution leaves the territory but is invested right back into the local economy.
The BlueSky official clarified with AG Talauega that almost all of the ASH dividend distribution for majority shareholder Elandia Technologies was also presented to ASG in a cheque for the Tax Office for its corporate taxation obligations.
He said this is the first time ASH is paying out cash dividends to its two shareholders after successfully paying off its capital loans earlier this year.
According to Toleafoa, customers have enjoyed the benefits ever since the ASH submarine fiber-optic cable linking American Samoa and Hawaii was commissioned in mid 2009, which was a pioneer achievement for American Samoa in the region that immediately enabled high-speed data access to the global information super-highway.
ASH Cable also extended a cable between Samoa and American Samoa ("SAS Cable") providing the first submarine fiber optic connection into independent Samoa, and both cables have greatly enhanced the local information and communications technology (ICT) experience.