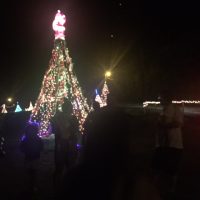 The hills of Aoloau are shiny and bright this festive season.
Twenty four Christmas trees have been set p so far but according to one of the villae matai faavae, more are being added each day.
The spectacular Christmas tree display is purely a village initiative to spread holiday cheer and goodwill and help fire up the Christmas spirit in the territory.
According to Faavae, the fathers of Aoloau, together with the faifeau came up with the idea.
The aumaga or untitled men erected the Christmas trees and families volunteered to decorate them.
Faavae says residents of Aasu village have also been a part of the Christmas tree display which has spectators from around the island each evening.
Faavae said this is the first time that Aoloau has come together to put on the Christmas tree display and its a beautiful sight that they are sharing with the whole island.