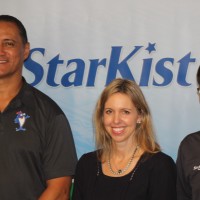 StarKist Samoa will be closed for two weeks like it usually does each year, even though workers only returned last week after a five week shutdown.
General Manager of StarKist Samoa Sangdong Kwon sad their last day of production for this year will be December 22 and they will be closed for two weeks.
The cannery will resume production on January 8.
StarKist Samoa will be distributing two cases of wahoo as Christmas presents for each of their 2300 employees.
Usually the workers, more than 80% of whom are from Samoa head home for the holidays.
The holiday shutdown however comes at the heels of a five week closure of the cannery for installation of equipment and upgrades to make it more environmentally safe and efficient.
Mr. Kwon said all of the cannery workers returned ont he start up day last week adn they didnt lose any employees during the shutdown.