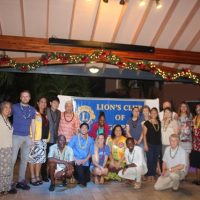 After the second day of the free clinics by the Adventist Medical Evangelism Network (AMEN)  yesterday about 800 people had been seen by the visiting medical team.
The 25 doctors, nurses and support staff from the US who worked alongside local volunteers  to provide dental, eye and general health care, were guests of honor at a dinner hosted by the Lions Club of Pago Pago last night at the Tradewinds Hotel.
And there was no subtlety in the thank you speeches from Lions Club President Lisa Tuatoo and Director of Health, Motusa Tuileama Nua, for the team to return for another mission or join the staff of DOH or LBJ.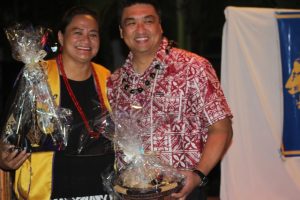 Executive Director of the Amen Clinics Ben Trinh said in his remarks last night that it has been a remarkable mission.
Play AudioAmen-director
Lions President Lisa Tuatoo extended appreciation to the group and all the voluntyeers who have given freely of their time and expertise to help our people.
Play AudioAmen-Lisa
Director of Health Motusa Tuileama Nua had a special reason to be there.
Play AudioAmen-Motusa
The Lions Club showed their faafetai with gifts that included a tanoa and carved anchor as well as ula pu'a for all of the team members.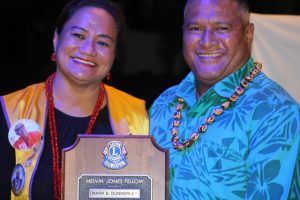 Also last night, a prestigious award by the International Lions Club for exceptional service to humanity was presented to the CEO and President of Hawaiian Airlines, Mr. Mark Dunkerley.
This is in recognition of the airline's assistance to the Lions Club of Pago Pago through free round trip tickets for raffle prizes for the Lions annual golf tournaments, waiving shipping costs for all of the medical supplies for the Amen Clinics, and discounted fares for the AMEN clinics as well as past eye care project teams that have worked in the territory.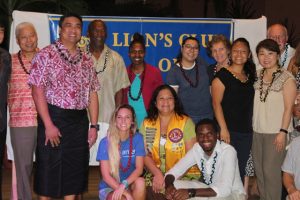 Very few recepients have been given this award which is named after the founder of Lions, Melvin Jones
Local Station Manager of Hawaiian Air, Tuli Fruean, accepted the award, on behalf of Mr Dunkerley who will be retiring in March of next year.