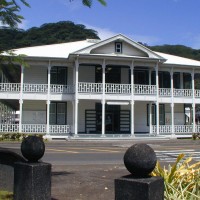 The jury retuned this afternoon a verdict in the trial of Falaniko Stowers also known as Nicole.
The faafafine was found guilty of possession of crystal methamphetamine but was found not guilty of possession wth intent to distribute,
During the three day trial the jury heard testimony from police officers, a forensic chemist from the Drug enforcement Agency who testified on the results of tests at the DEA lab in Vista California of substances  found on Stowers' possession, and eye witnesses.
It was on November 28 last year that police, who were on their way to execute a search warrant of the defendant's home, saw him riding in the back of a pick up truck and stopped the vehicle,.
Court information about the case said that police saw Stowers try to hide something from them and when asked what he had in his hands, he opened his fist to reveal six cut up straws with crystalline substances in them.
Tests later proved that the crystalline substance was methamphetamine and this was confirmed by lab analysis conducted at the DEA lab in Vista California.
Stowers faces seven years in prison, a fine of $5,000 or both when sentenced.