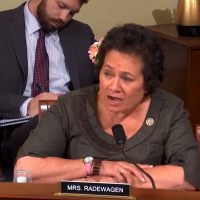 At a hearing on The Hill today, Congresswoman Aumua Amata highlighted Natural Resources Committee efforts to lay a groundwork for updating the U.S. Department of Interior and its services for the 21st century.
The congresswoman said,  "American Samoa and the other insular areas need to be able to rely on efficiency from the Interior Department, since their decisions and activities so often apply to the territories."
The hearing, titled "Transforming the Department of the Interior for the 21st Century," examined the department's goals and policy ideas, including reorganization and possible relocation of bureaus closer to the people they serve.
The Interior Department is responsible for 400 million acres of federal land, but in recent years has added missions and experienced maintenance backlogs at national parks.
Congresswoman Aumua said, "Like any major government entity, the Interior Department will benefit from efforts to streamline and update procedures, and the goal must be to provide the best possible services to the even most geographically distant places.
"I appreciate the testimony of these witnesses on the current status of their effort, and also the Trump Administration's genuine interest in restructuring federal agencies to reduce waste and make them more effective."