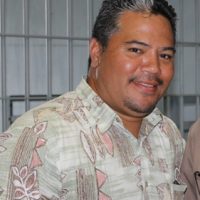 Acting Chief of Customs Keith Gebauer retuned from the two Samoa talks with an appreciation for the value of networking with the territory's closest neighbor.
Gebauer took special interest in the customs automated system that Samoa and other island countries have been using for some time which provides a standardized format to assess and document duties and movement of cargo.
He said Samoa has been on this system for 15 years and there have been a few upgrades.
Gebauer said the visit and interaction with his colleagues in Samoa provided valuable insights and would help when the time comes for the territory to decide whether it should install the system that Samoa is using here.
Gebauer said the discussions with their counterparts in Samoa also covered ways to better protect Samoa's borders from contraband whether it be drugs, weapons or other prohibited items.
He said there was agreement on the need to do better monitoring and inspections at ports of entry in the two Samoa.
Samoa had raised issue with lack of uniformity in assessment of inspection fees and charges in the territory for good from Samoa.
Gebaeur said they explained at the meeting that when there are big quantities of handicrafts or food stuff brought in by an individual stating that they are for personal consumption but the consignee is a business owner, questions will be asked and appropriate fees will be assessed.