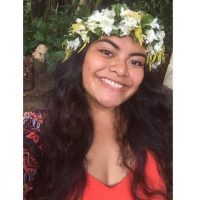 South Pacific Academy senior Karallyn Fitisone is the only student from American Samoa chosen as a semi finalist for the Hawaii Pacific Symposium to be held January in Honolulu.
Karallyn, the daughter of Kathy and Paulo Fitisone of Lepuapua centered her project on the effects of litter on the health of the mangrove wetland forest in Masefau.
She explains that this was a field study to assess the influence of trash on the health of mangroves and Masefau was chosen, for ease of accessibility.
She only had to go through just the pulenu'u versus several land owners in other wetland areas.
Once the site was determined, a perimeter of the mangrove wetland was mapped out using GPS with 15 trash sites being geo-referenced.
Trash sites and non-trash sites were then evaluated using the parameters.
Karallyn  said whenever she works on a project, she tries to make it locally-based as it has the opportunity to reach a wide audience outside of American Samoa.
From initial discussions, she realized that she knew very little about mangroves, so she worked with mentors Ms. Visa Vaivai of the National Park of American Samoa and Dr. Mark Schmaedick of ASCC Land Grant to design and carry out her research.
Karallyn said the results of her study suggest that anthropogenic litter has limited impact on the health of mangroves.
However, given that this was a first-time evaluation of certain parameters, it was difficult to determine the validity of the data without any local comparisons.
A similar study was conducted by Beckwith et al. (n.d.) with comparable results.
Karallyn has concluded that further studies and assessments need to be continued, and in general, "we need to find solutions to the trash problem that plagues our island's beauty."
About her selection as a semi finalist for the Hawaii Pacific Symposium, Karallyn said its an honor to represent American Samoa at the semi finals.
"Its always a great feeling when our students are afforded opportunities to compete against others at the national and international levels.
"I am also a staunch supporter of women in Science Technology Engineering Math (STEM) so to be traveling with three other exceptional young women to present topics at the PS3 is an awesome achievement in itself."
While five other students from the territory were selected for the Hawaii symposium, only Karallyn has been selected for the semi finals, and will be competing with 8 other high school students, all from Hawaii, for a chance to present at the national level.
Karallyn is grateful for the upcoming opportunity, and thanks God for His continuous blessings , her family and friends, mentors Ms. Visa Vaivai of the National Park and her crew, Dr. Mark Schmaedick of ASCC Land Grant, the village of Masefau, her science teacher, Ms. Cecilia, and all her teachers and classmates at South Pacific Academy.
She also thanks the Department of Education for the opportunity.