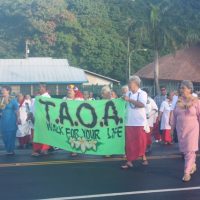 Four men and four women will vie to be the territory's first Mr & Mrs Senior Citizen in a first time event organized by the Territorial Administration on Aging Office .
The contest will be held tomorrow at the Department of Youth and Women Affairs Community Center during the Governor's Annual Christmas Party for TAOA participants.
The female contestants are Arieta Ripley sponsored by JLen Ts, Manuia LaCambra sponsored by the Department of Human Resources, Nuuuli Pulou sponsored by Laulii Elementary and Palesitina Jennings of the Department of Health Nursing Division.
The male contestants are Toese Sefulu sponsored by Morris Scanlan Service Station, Vaovai Faateleupu sponsored by Jlen T's, Lolesio Faatau sponsored by Moana o Sina and Ketesemane Meaole sponsored by his children.
There are five categories for the competition: teenage wear from the 50s, talent, Samoan siva in which the contestants will appear in traditional wear and the interview.
TAOA is expecting a crowd of close to 1,000 at tomorrow's event which is set to begin at 9am.
ASG departments are providing gifts for the senior citizens and some will entertain.
Lunch will be served and TAOA advises that there will be no hot meals served at the usual TAOA centers tomorrow.