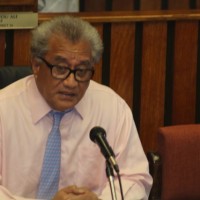 Director of Commerce Keniseli Lafaele says the inclusion of American Samoa in the  EB-5 visa program  holds promise for business development in the territory.
The EB-5 Visa program is a way for foreign investors to get their US green cards and permanent residency through an investment in a qualifying enterprise .
The DOC director says this would be an enticement for foreign business owners to consider investing in local ventures.
An EB-5  Regional Center has been very active in promotions with investors from China , South Korea and other Asian countries .
Lafaele said this may be the source that the territory can tap for major developments such as development of the old Rainmaker Hotel site and cable car rehabilitation.
The DOC Director says they are preparing proposals to be submitted to the EB-5 Regional Center  with the hope that there will be investors attracted to  doing business in the territory, and earn their US green cards.