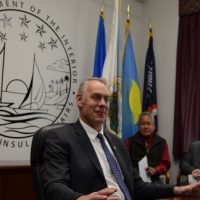 Interior Secretary Ryan Zinke is formally recommending to President Trump, opening the Pacific Remote Islands Marine National Monument, to fishing and possibly changing the monument boundaries.
KHJ News Washington DC Correspondent Matt Kaye reports,the proposal is part of interim changes drafted earlier…
Few differences separate Secretary Zinke's final recommendations versus a draft Zinke submitted to the White House last summer.
The new document continues to recommend opening commercial fishing rights in three marine monuments, including the Pacific Remote Islands monument and the Rose Atoll monument, key for American Samoa's tuna fleet.
And, Zinke calls for amending the monument proclamations to allow regional fisheries councils to make fishery-management decisions, "as authorized by theMagnuson-Stevens Fishery Conservation and Management Act."
The Secretary's report states that before PRIMNM was created, "there were Hawaiian and American Samoan longliners and purse seiners vessels operating."
Zinke stressed the importance of the purse seine fishery to "the economy of American Samoa…heavily dependent on these vessels."
The report to the president states: "American Samoa's economy is heavily dependent on can tuna fish production, and many monument designations have contributed to ongoing threats to the viability of the industry."
Finally, Zinke recommends that the proclamations for both the Pacific Remote Islands andRose Atoll marine monuments be "amended or the expanded boundary be revised" by the president.
Congresswoman Aumua Amata Radewagen pressed Zinke, Vice-President Mike Pence and others earlier, to end fishing restrictions on American Samoa's all-important tuna industry.
The two Pacific Ocean sites were created by President George W. Bush and later expanded by President Obama.
President Trump signed an executive order in April, directing  Zinke to review large national monuments created since the beginning of 1996.
Environmental groups plan to challenge monument changes, if President Trump goes ahead with some or all, of the recommendations.
President shave limited powers under the 1906 Antiquities Act and have reduced monumen tboundaries only rarely.