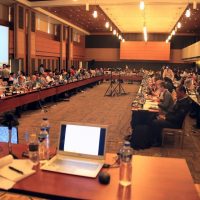 The Secretary General of the Pacific Council of Churches has called on the Western and Central Pacific Fisheries Commission (WCPFC) for more engagement with Civil Society Organisation in the Tuna negotiations.
Reverend Francois Pihaatae says CSOs represent their communities but are on the margins at WCPFC not part of the decision-making process.
He is concerned that Distant Water Fishing Nations (DWFNs) are making decisions about a resource that belongs to Pacific people.
Rev. Pihaatae said they have raised with some of the big fleets at the meeting the issue on IUU or Illegal, Unreported and Unregulated fishing) especially in the Pacific.
He was dismayed that some of the culprits are members of "this big acronym WCPFC" but on the side they are doing illegal fishing," .
The reverend said new high registration fees, which many civil society organisations can't afford, are the main obstacle to the participation of NGOs at the meeting.
Each of the first two representatives sent by CSOs have to pay USD$500 to attend, with each additional rep paying USD$350.
Rev Pihaatae said it is very expensive, for NGOS to travel to a closed door meeting and sit and listen to what is going on because of the registrations we cannot afford to pay," .
The meeting of the WCPFC decides regulations for fishing in the Pacifci Ocean including open seas which do not belong to any country.
StarKist and Tri Marine International have delegates at the meeting as well as trhe American Tunaboat Association to which the US purse seiners that supply teh local canneries belong.
Local delegates in Manila for the meeting which wraps up today include Director of Marine and Wildlife Resources Vaamua Henry Sesepasara, Archie Taotasi Soliai of StarKist and the chairman of the American Samoa Fisheries Task Force Solip Hong.
American Samoa has a seat at the conference.