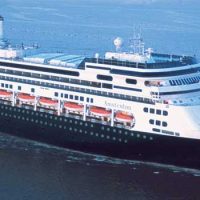 The Holland America Line, cruise ship (CS) "AMSTERDAM" will be docking at 8am Thursday for a day in the port of Pago Pago.
The Amsterdam is sailing from Fiji to Honolulu with 1,656 passengers and 647 crew members aboard.
To ensure that cruise ship passengers enjoy their stay, and spread good tales of the territory, the American Samoa Visitors Bureau encourages bus & taxi operators, and tour drivers to lay out the island welcome and wear their best attire when they greet the visitors.
Handicraft, clothing and sourvenir vendors will be set up at the Fagatogo malae, "Malae O Le Talu".
The market place in Fagatogo , always a favorite stop for cruise ship passengers will have local produce like bananas, coconuts, papaya as well as cooked food and handicrafts for sale.