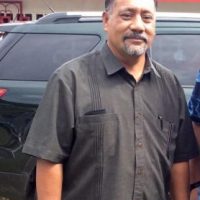 The House of Representatives yesterday elected by unanimous vote a new Chief Clerk of the House to replace Mrs Fialupe Fiaui Lutu who won the special election for Sua #1.
The new chief clerk is Vaiaitu Mulinuu Maluia who has been deputy chief clerk of the House since last year,.
Before that Vaiaitu served one term as House Representative for Nuuuli but lost his seat in the last general elections.
He now takes over the Chief Clerk duties while Mrs Fialupe Lutu steps into her new position as faipule for Sua District #1, filling the vacancy created  by the resignation of Puleleiite Tufele Liamatua Jr , now the Director of the American Samoa Telecommunications Authority.
A new deputy Chief Clerk is to be voted on when House Representatives convenes in January.