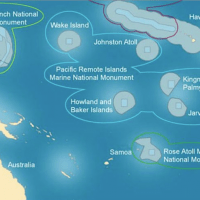 Congresswoman Aumua Amata is pleased with Interior Secretary Ryan Zinke's recommendation that President Trump consider expanding access to fishing in certain marine monuments.
The Interior Secretary's final recommendations include allowing traditional fishing and commercial fishing rights in three marine monuments, including the Pacific Remote Islands monument and the Rose Atoll monument.
Aumua says in a statement this a major step forward in efforts to restore fishing rights in American Samoa.
Secretary Zinke said, "The sea is the way of life for people in American Samoa, and by restoring traditional fishing access to the area we will be able to ensure a vibrant economy and sustainable food sources, while also protecting the marine life and habitat."
Zinke expressed his appreciation to Congresswoman Amata for her continued assistance during the review period.
The congresswoman said, "I appreciate this recommendation and thorough assessment from Secretary Zinke."
She added, "This is good news for American Samoa, and important to the process of restoring a common-sense approach to these waters. We love our beautiful coasts and waters in American Samoa, but we also have unique economic circumstances and a heritage of fishing."
Aumua said she looks forward to President Trump's decision based on these facts from the Interior Department."
Secretary Zinke's recommendations apply to the currently designated marine monuments.
On October 11, Congresswoman Aumua also voted for the National Monument Creation and Protection Act, which was marked up and passed by the Natural Resources Committee, to ensure thorough oversight of any future marine monument designations.
That bill would prevent bureaucratic overreach from repeating past concerns, by ensuring both local/territorial input and insisting on Congressional approval before any new marine monument designation.