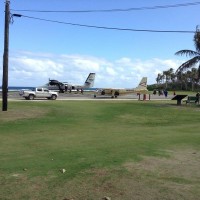 The American Samoa Government is planning to acquire a small aircraft to fly to Manu'a.
Director of Commerce Keniseli Lafaele and the former pilot for Segaula, the ASG aircraft, former Senator Paepae Faiai traveled to the US mainland last month to look at various aircraft.
Lafaele said in response to KHJ News questions that their trip was to explore options.
He explained that while a commercial carrier, Samoa Airways, is now providing flights to Manu'a , the territory still needs its own aircraft in case something happens to the existing service.
He said this is especially true when the territory is depending on a foreign carrier for flights to Manu'a.
The DOC director stressed that their trip was just exploratory and no firm decision on the aircraft has been made.
So what's happened to the Segaula?
The aircraft was leased to Tausani Airlines and the principals of the company, which include Filifaatali Mike Fuiava, now Director of Agrculture and Swains faipule Sua Alexander Jennings, took out a $300,000 loan from the Development Bank of American Samoa, to get the aircraft air worthy.
The plane made a few goodwill flights but their planned commercial service never took off.