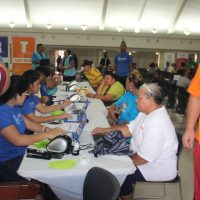 The Adventist Medical Evangelism Network (AMEN) plans to continue their service to American Samoa beyond their free medical clinics which end Thursday.
The group of doctors, nurses and support staff  offering free eye, dental and general medince clinics this week are working on a  program that they hope will stem Diabetes 2 in the territory.
Executive Director of the AMEN Clinics Ben Trinh said they hope to introduce the program to churches and community initially.
Play Audio