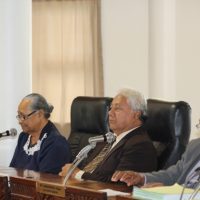 Both the Senate and House have cleared their calendars for the Special Fono Session that Governor Lolo called for ten days to review legislation regarding the Territorial Bank of American Samoa and appointment of an additional judge for the High Court.
The Senate today passed in final reading the House version of the bill to remove all references of a holding company in the statute relating to TBAS.
That was the final action that the House was waiting for before adjourning.
The only other measure that the House acted on was approval of a Senate resolution paying tribute to the late Salanoa Soli Aumoeualogo, a former senator, and House Representative who also served as Senate counsel and was a Public Defender.
In addition to approving the TBAS measure, Senators also confirmed one of their own, Paepae Iosefo Faiai to serve as an associate judge of the High Court of American Samoa.
Senators are returning tomorrow for a farewell luncheon for Senator Paepae while the House has called it a wrap for this year.
Governor Lolo Moliga has said that once the legislation for TBAS is approved, it will be transmitted to the Federal Reserve Board, and he's confident the routing number for TBAS will be approved.