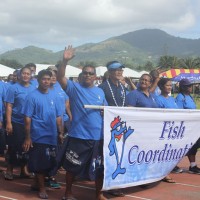 The sweeping tax reform bill the US Senate passed early Saturday morning, lacks a key tax break for American Samoa, setting up a negotiable difference with the House-passed bill.
KHJ News Washington correspondent Matt Kaye reports—
The Senate's 51-49 vote dramatically increases the odds that historic tax reform legislation will be enacted into law, with tax implications for all the territories and states.
But the good news for American Samoa is that while the Senate bill lacks an extension of the territory's economic development credit, the House bill includes it, setting up one of one of many negotiable differences.
Congresswoman Aumua Amata Radewagen ensured that American Samoa would have a fighting chance at the bargaining table to extend the credit, by winning its inclusion in the House version.
Play Audio
Radewagen called extending the taxc redit a priority for American Samoa's economy to encourage investment and preserve precious local jobs.
Radewagen's discussions with House Ways and Means Chairman Kevin Brady resulted in a 6-year extension of the credit , retroactive to last January 1st, in the landmark House-passed bill.
The credit expired last year, when Congress failed to extend many tax breaks, raising concern the remaining cannery in American Samoa would either drastically reduce operations or cease them entirely.
The credit reduces federal taxes on income earned by qualifying US firms in American Samoa, heavily dependent on the tuna industry.
Starkist Samoa says it employs some 2,300 workers in American Samoa.
StarKist's President and CEO Andrew Choe told the Wall Street Journal recently, the tax credit is "very critical" for thefirm to continue operating in the territory.