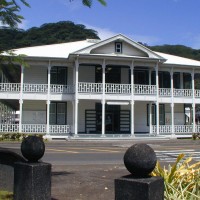 A man accused of subjecting young women to sleep with men for drugs has been sentenced to 28 months in jail.
This is part of the 7 year probation for John Tuupo who pled guilty to promoting prostitution in the second degree.
In a plea deal, the government dropped charges of aiding and abetting unlawful possession of methamphetamine and first degree sexual abuse.
Before he was sentenced, the defendant asked the court to given him a second chance and pleaded that he wanted to take care of his mother.
Tuupo claimed that he had turned to drugs when his father passed away in 2013 and there was no one to carry out his Dad's obligations.
Regarding the crime he was convicted of, Tuupo told the court that he was approached by young women he didn't know and asked for a place to stay.
He said he took the girls  to his house to sleep but when the police showed up the girls gave false information about him.
According to him the girls were lying.
Tu'upo's attorney, Public Defender Douglas Fiaui asked for a probated sentence noting that his client had admitted to being a drug user and this was the cause of his troubles.
Fiaui asked that the court allow Tuupo, a citizen of Samoa, to depart the territory voluntarily.
Prosecutor Assistant Attorney General Robert Morris didn't object to the request for a probated sentence but asked that the court consider that the defendant promoted prostitution by subjecting girls to sexual activity in exchange for ice.
Chief Justice Michael Kruse sentenced Tuupo to 7 years in jail which was suspended on condition that he serve 28 months in jail without release.
Tuupo is to leave the territory after he serves time and not return during his 7 year probation.