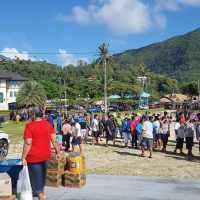 More than 1600 care packages were distributed to employees of StarKist Samoa and the can plant, Talofa Systems on Saturday by "Love thy Neighbor," spearheaded by Tapumanaia Galu Satele Jr, with generous support from the business community and the public.
Love thy Neighbor prepared 1800 care packages for StarKist employees and 50 for workers of the can plant.
The registration of employees was verified by StarKist Samoa's Human Resources team headed by HR Manager Taotasi Archie Soliai and HR Director Cassandra Satele.
Tapumanaia says it took almost 1 hour and 15 minutes to get everybody to register and throughout the distribution more people trickled in.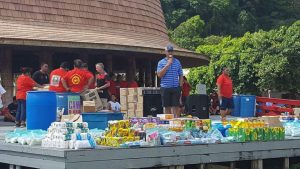 "When we started, we registered over 1, 487 people and when we were finally done we had given out over 1,687 care packages," he said.
The remaining packages will be donated to a needy cause that Love they Neighbor will identify and announce this week.
That day, Cost U Less Manager Mr. Pete Foskitt distributed an added donation, 5% discount coupons which was was in addition to their generous $5000 donation that Tapumanaia used to buy canned food items.
The HR team also used this distribution event to give away the Anchor milk donation from Panamex.
Pago Pago Trading Company also donated 100 cases of soda that were divided into 6 packs and given as an option to milk.
Tapumanaia related, "It took us over 5 hours to register and distribute the 1600+ care packages."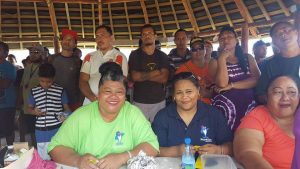 A raffle style format was used so each person had a fair chance for the "special items" package that included items they didn't have enough of to give to everyone.
The sorting and distribution was done by volunteers from the Church of Jesus Christ of Latter Day Saints.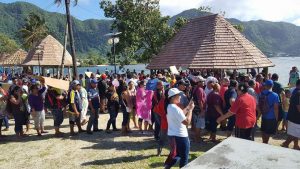 Tapumanaia described that it was an overwhelming and emotional time for him:"I saw the people they helped stand in the line in the very hot sun and waited for the distribution.
"As many of the employees came up to me and hugged me with tears of gratitude in their eyes for this effort it was humbling and the most priceless reward of all. "
On behalf of Love Thy Neighbor Tapumanaia thanks everyone…businesses, organizations, high school student body and NHS programs, elementary schools, DPS Leone substation crew, ASCC PTK, and individual donors for the love and support "but most especially the trust in me and my family to do this.
"May God bless all of you and may He bless and replenish your kindness in abundance."