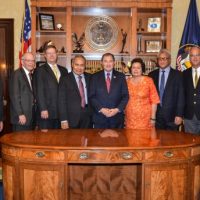 A joint statement from  Governor Lolo Moliga and Congresswoman Aumua Amata reports on meetings that the two attended in the US mainland last week.
It says, Governor Lolo Matalasi Moliga and Congresswoman Aumua Amata together advanced American Samoa's economic development interests through a series of meetings throughout last week.
The meetings were with StarKist CEO Andrew Choe, Governor Gary Herbert of Utah, and also Randy Quarles, Vice Chairman of the Federal Reserve Board.
On November 7, Governor Lolo Moliga and a delegation from his cabinet, along with herself, jointly held discussions with StarKist CEO Andrew Choe and other representatives of StarKist to make an aggressive, coordinated approach at both the local and federal level to ensure all policies align for StarKist's long term sustainable operations in American Samoa to the benefit of the local community.
Discussions focused on making final passage of the American Samoa Economic Development Credit (the Section 30A tax credit), recently included in the House of Representatives tax reform bill by the Congresswoman, a top priority.
It's hoped that the tax credit will be included in the final tax bill final expected to pass by year's end.
Also discussed was coordinating efforts to reestablish local control of minimum wage determination to make sure local businesses are globally competitive against their international counterparts, something the Obama Administration supported in testimony before the Congress.
Aumua said, "We are now in the House tax bill with the 30A provision, and with further effort from the Governor's office and StarKist, we hope to be included in the final passage of the tax bill later this year."
On November 9 and November 10, Governor Lolo, his delegation, and Congresswoman Aumua Amata met in Utah with Utah Governor Gary Herbert and newly appointed Vice Chairman of the Federal Reserve Board of Governors Randall Quarles, respectively.
The discussions concerned issues related to the establishment of the Territorial Bank of American Samoa.
The ASG delegation included Phil Ware, CEO of TBAS, Director of Commerce and TBAS Board member Keniseli Lafaele, Robert Ho Chee Director of the Office of Financial Institution and Iulogologo Joseph Pereira, the governor's executive assistant.
Governor Lolo stated, "I appreciate very much the guidance Vice Chairman Quarles provided on the regulatory process, and look forward to discussing his suggestions with the Fono to insure the best possible path forward to fully operationalize the Territorial Bank of American Samoa in the most timely fashion in order to provide ready access to essential banking services to our private and public sectors.
"I thank the Governor of Utah Gary Herbert and the Congresswoman Aumua Amata for their support to help make basic banking services affordable and readily available to those who most need it."