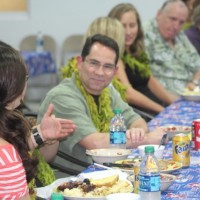 A team from the Oregon Health and Science University is back in the territory to check on children with rheumatic fever and congenital heart disease.
Dr. Laura Armsby who heads the team said in an interview during their mission last year that strep throat is the first sign of rheumatic fever and parents should pay attention when their child says they have a soar throat.
OHSU has been helping identify and treat patients with rheumatic fever for the past few years, with the medical team volunteering their services while local donors team up with LBJ to bring them here and accommodate them during their stay.
This year, Paramount Builders donated $15,000 to the OHSU mission,
Dr. Madriago, one of the physicians from OHSU says the doctors get as much back from working with patients, parents and staff at LBJ as they give their medical expertise.
Play Audio