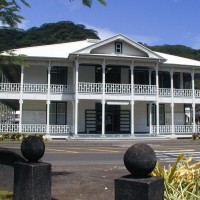 The jury returned a not guilty verdict in the trial of a former school teacher Tony Leatualevao yesterday.
The defendant was accused of hitting a student with a wooden paddle five times last year.
During the two day trial, the victim said he wasn't able to sit down due to the pain from the beating.
Also taking the stand was the boy's mother, the principal of Coleman Elementary, and the lead investigator.
According to the government's case, the teacher beat the boy for fighting with 7th graders on November 2 last year.
Witnesses for the defense included a school counselor who said that the student was referred to her office three times for fighting, name calling, bullying, and playing inside class.
After the third referral the parents were called in and in consultation with them the boy was suspended for three days.
Leatualevao was removed from Coleman Elementary after the incident and , transferred to the Teacher Quality Division at the DOE main office in Utulei.
The victim is still attending Coleman Elementary.