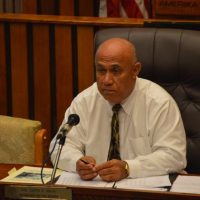 The Executive Director of the American Samoa Government Employees Retirement Fund is thankful that investment returns are lucrative at this time to offset the increasing amount of payouts for ASG employees who are resigning or retiring.
Iaulualo Talia Faafetai said an unusually high number of ASG workers  left government employment this past summer and many cashed out their retirement.
He said ten in one month is high.
Since last year, Retirement Fund advisors have been urging that employer and employee contributions to the Fund be increased.
Iaulualo says draft legislation for an increase was submitted to the Governor's Office before the start of the last legislative session.
However the administration did not submit the bill to the Fono.
The last Fono session was primarily focused on the Fiscal Year 2018 budget and revenue generating bills.
Iaulualo says the investment market has been doing very well and that's what's offsetting the deficit between payouts and employee/ employer contributions.
But he said its not prudent to continue this pattern as investment returns are needed to grow the Fund.
The Retirement Fund Board recently approved a $6 million loan for the American Samoa Telecommunications Authority.
Collateral for the loan is the new ASTCA building and a stake in the Hawaiki Cable.
Iaulualo, along with the chairman of the Retirement Fund Board, Vaanatiu Iafeta Toafala, last month attended meetings between ASTCA and potential investors of Hawaiki Cable.
Iaulualo says since he and Vaanatiu were on their way to a Retirement Fund Board meeting in Las Vegas they attended the ASTCA meetings with investors in Honolulu.
He did not comment on what was discussed at the meetings or the outcome.