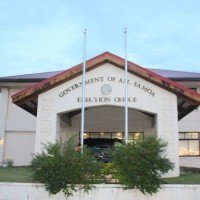 Provided there are no challenges, voters in District No 5 , Sua No 1 will have six candidates to choose from when they go to the polls to vote for a new House Representative on October 24.
The special election is to fill the vacancy created by the resignation of former Sua faipule Puleleiite Liamatua Jr. to become CEO of the American Samoa Telecommunications Authority.
When the deadline for nominating petitions for the special election closed on Friday five men and one  woman had fulfilled the requirements of election law to run for office.
They are:
Fialupe Felila Fiaui Lutu
Ketesemane Meaole
Laloniu Maloa
Tuialofi Faalae Lauatuaa Tunupopo
Tuifagalilo Vele
Uele Fale Uele
Tuialofi Tunupopo has held the seat in previous legislatures.
Fialupe Lutu is the current Chief Clerk of the House and Uele Fale Uele and Ketesemane Meaole have run for the Sua seat in previous elections.
The Election Commissioner says any registered voter may challenge any of the six candidates to run for office.
The challenge must be submitted to the Chief Election Officer no later than 4:30 pm, Wednesday, September 27.
The challenge shall be in writing, explaining the grounds upon which it is based and signed by the person making the challenge.
After the deadline, or the determination of any challenges, candidates shall be certified and ballots shall be printed with the names of candidates certified to run for office.