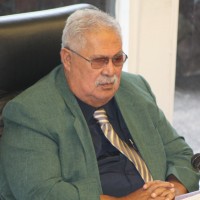 Maoputasi Senator Tuaolo M Fruean was dead serious when he said that all lawmakers need to be taken off-island for medical check up suspecting that they may be sick from exposure to asbestos in the old Fono building. Asbestos is suspected of causing cancer.
Tuaolo who was recently hospitalized thinks his illness may be a result of being exposed to asbestos in the now torn down Fono building.
When the nearly 40 year old building was demolished, yellow tapes sealed the perimeter of the budding site with signs on posts and doors cautioning of the existence of asbestos.
Senator Tuaolo said he's awaiting test results from his doctor and if asbestos is confirmed as the cause of his sickness, the Fono will be held accountable.
He advised his colleagues not to take this matter lightly as the effects of asbestos are not i known until some years later.
Tuaolo noted Fono leaders and lawmaker who passed away at a young age and said it's his suspicion that asbestos contributed to their early departure from this earth.
He suggested that all lawmakers be sent off-island to be checked for effects of the suspected cancer causing material.
Several senators agreed with him and thanked Senator Tuaolo for bringing up this issue .
Senate President Pro Tem Nuanuaolefeagaiga Saoluaga Nua agreed with Tuaolo's suggestion that lawmakers get a medical check up.
Tualauta -Senator Fonoti Tafa'ifa chimed in and shared that one day last week shortly after she arrived at the Fono, she suddenly felt ill.
She thinks it was from the dust from the demolition of the old Fono building, which may still have asbestos.
Fonoti said most of the senators are advanced in years and can easily get sick so they must heed Senator Tuaolo's advice.
She advised that all Fono employees be checked for any health effects from asbestos.