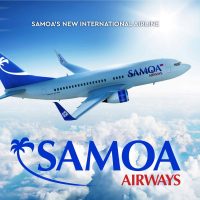 Samoa's international airline Samoa Airways, is eyeing the acquisition or lease of the world's largest  twin jet airplane, the Boeing 777.
In a government press release, the Minister responsible for Polynesian Airlines, Lautafi Fio Selafi Purcell indicates the airline will introduce the state of the art aircraft within a couple of years.
He said they hope to lease or acquire a 777 aircraft by 2019 to expand Samoa Airways services to other destinations such as Melbourne and Brisbane in Australia.
Samoa Airways will inaugurate international flight service on November 14.
That is when the airline's leased plane, a 737-800 from Iceland Air, arrives at Faleolo, then flies off to Auckland to mark the official start of international service.
According to the Minister, the airline will start with 6 weekly return flights to Auckland and two weekly return flights to Sydney.
Lautafi said, "We will launch our new national carrier brand with our range of Malaga Fares already on the market, with meals included, for these destinations before we advertise the regular fares which I can safely say are more affordable compared to the fares now."
The airline has already advertised discount fares, some as low as $ST599 roundtrip, to coincide with the launch.
Marketed as Malaga Fares, the low fares have already attracted criticism from some members of the public as being too low for a fledgling airline which is leasing its first airplane.
Their announcement prompted one senior government official to label the move as irresponsible.
The press release quotes Lautafi as saying the initial lease agreement with Iceland Air is a wet lease that includes pilots and stewards for the aircraft.
It's believed the airline intends to seek a lease which will allow them to have their own air crews.
Lautafi says so far everything is falling in place and he looks forward to the return of the new branded national carrier to international services as planned.