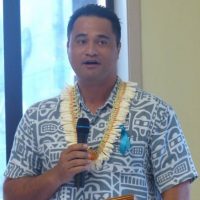 A new set of rules was issued by Attorney General Talauega Eleasalo Ale yesterday for the American Samoa Entry Permit Waiver Program.
This is applicable for travelers from 38 countries which are allowed in without visas to the United States but have to register on line before they are allowed to enter.
The American Samoa entry permit waiver program has similar rules as the US visa waiver program.
Travelers from these countries must obtain an OK to Board prior to boarding their flight/vessel to American Samoa.
To obtain the Ok to Board travelers from the 38 visa free countries  have to provide at least 48 hours before travel, non expired machine readable passport good for 6 months after their planned departure from American Samoa, a confirmed roundtrip ticket to point of origin or onward travel and payment of the $20 fee.
The memo also says payment may be made at the airport upon arrival.
If the materials are in order, the AG's Office will issue an Ok to Board  for entry into American Samoa.  A conditional Ok to Board will be issued if payment is to be made upon arrival.  Failure to pay will result in denial of entry,
When the traveler arrives here they must present a copy of the Ok to Board document to Immigration officers.
The AG spells out that eligibility for the entry permit waiver program does not guarantee entry into the territory.
Immigration officers may still refuse entry upon arrival based on American Samoa laws.
In addition, any traveler who poses a threat to the welfare, health, safety or security of American Samoa will be denied entry and placed back on the arriving vessel to be returned to the point of origin.  There's no guidelines as to how a traveler can be deemed a threat.
The list of the 38 countries is attached to the memo along with addendum listing permitted activities and prohibited activities for those coming here on the visa entry permit waiver program,
Under permitted activities for business, a traveler
can consult with business associate,
attend educational, professional or business conference.
attend short term training (traveler may not be paid by any source in American Samoa with the exception of expenses incident to their stay) and
negotiate a contact.
Under tourism, the permitted activities are:
tourism
holiday
visit friend or relatives, medical treatment, participation in social event hosted  by fraternal, social or service organizations.
participation by amateurs in musical, sports or similar events or contest if not being paid for participation
enrollment in a short recreational course of study not for credit toward a degree for example a two day cooking class while on vacation and
participation in cultural or religious exchanges,.
Prohibited activities for travelers under the entry permit waiver program, are:
study for credit,
employment,
work as a foreign press, radio, film, journalist or other information media
apply for residency in American Samoa or
apply for extension of stay in the territory except in emergency situations.
The list of countries in the American Samoa Entry Permit Waiver Program are: Andorra, Australia, Austria, Belgium, Brunei, Canada, Chile, Czech Republic, Denmark, Estonia, Finland, France, Germany, Greece, Hungary, Iceland, Italy, Japan, Latvia, Liechetenstein, Lithuania, Luxembourg, Malta, Monaco, Netherlands, New Zealand, Norway, Portugal, San Marino, Singapore, Slovakia, Slovenia, South Korea, Spain, Sweden, Swizerland, Taiwan and United Kingdom which includes England, Northern Ireland, Scotland and Wales.
Any questions regarding this policy may be directed to 633-4163, 633-4164 or okboard@la.as.gov