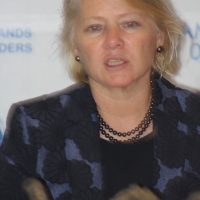 Governor Lolo Moliga has underscored the importance of American Samoa becoming involved in the affairs of the Pacific region, being that it is a small island itself.
He sees the need for the territory to have an input and be given a voice, separate from the United States in regional organizations like the Pacific Island Forum and the Polynesian Leaders Group.
As he puts it, the United States has a different interest and role in forums such as this week's meeting of the Forum in Apia.  So the focus of US representatives at these meetings would not necessarily be related to the needs and interest of American Samoa.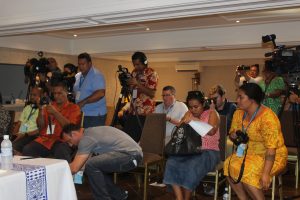 Governor Lolo sat at the same table as the other members of the Polynesian Leaders Group on Monday.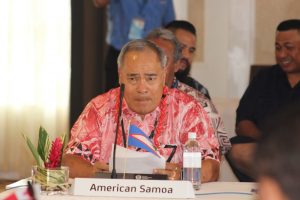 However American Samoa did not have a seat at the gathering of Small Islands States  and the Pacific Islands Forum meeting.
The governor says while the French territories of New Caledonia and French Polynesia have been admitted as full members, American Samoa's status as a US territory presents legal hurdles to gaining full membership in the Forum.
He inquired if the territory can receive assistance to internationally funded programs that Forum members receive such as the Green Climate Fund , …the French territories have access to this assistance.
Lolo said he learned from Samoa Prime Minister Tuilaepa that governing instruments for the French territories allow them to be party to groups such as the Forum and receive assistance from foreign donors.
But that is not the case for American Samoa.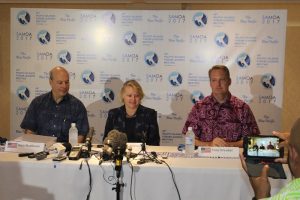 This was also made clear at a press conference yesterday by a State Department official in the US delegation to the Forum meeting, Matt Mathews.
He is the Deputy Assistant Secretary of the Bureau for East Asia and the Pacific at a press conference yesterday.
Mathews accompanied the Acting Asst. Secretary for East Asian and Pacific Affairs, Susan Thornton, who's leading the US delegation to the Forum meeting.
When KHJ News asked if the State Department would support full membership for American Samoa at the Forum, Thornton had this to say, before Matthews stepped in.
Play AudioAm-Samoa-membership