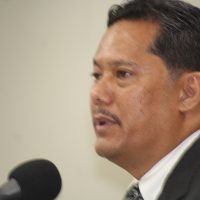 Jehovah Witnesses in American Samoa will begin their annual Regional Convention Friday at the Lee Auditorium.
Elder Chuck Burke explained that the three day event will focus around the theme of "Endurance" and how members are encouraged to not give up despite the many struggles and challenges they face.
Play Audio
American Samoa has about 212 Jehovah Witnesses with 2 Samoan congregations and an English one which also caters to Tuvaluans and Cantonese Chinese speaking Witnesses.
A special feature for this year's convention is a movie modernizing the Biblical story of Lot and his wife.
For the initial service at the Lee Auditorium doors open at 8:00am tomorrow and the service is scheduled to start at 9:20.
Members of the public are invited at no cost.
For more information, call 252-0224 or 770-0064 or go to JW.Org/Eng for English speaking and JW.Org/SM for Samoan speaking audience.